The Sailing School is located in Riverside, NJ at G. Winter's Sailing Center, 8 Reserve Ave, Delran, NJ 08075.  We offer lessons in Basic Keel Boat Sailing, Coastal Cruising, Bare Boat Cruising, and Coastal Navigation as well as Private Lessons.
For more information, please contact:
Gary Thomas at 609-781-3269
Email: info@thesailingschool.us
We are an American Sailing School Affiliate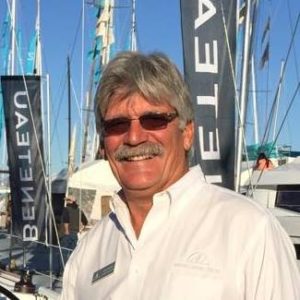 Captain Gary Thomas (a USCG licensed Captain) has been involved in sailing for over 50 years and teaching new sailors for the last 35.  Starting out at the Red Dragon Canoe Club on the Delaware River, he introduced new sailors to the sport of dinghy sailing.  That led to involvement with the Eastern Shore Small Craft Institute on the Chesapeake Bays Eastern Shore where for twenty years Gary went from teaching American Red Cross Basic Sailing to Instructor Trainer, to coordinating the entire program.  In 1998 he went to work with the Philadelphia Sailing School as a Basic Keel Boat Instructor teaching American Sailing Association certification programs. Now embarking on a new career he has opened The Sailing School in Riverside, New Jersey and Rock Hall, Maryland.  Starting with the Beneteau ASA First 22 , you can learn to sail on the beautiful Delaware River.  If you know how to sail and want to experience life aboard a cruising sailboat, then the Introduction to Coastal Cruising on "Elusive", a Beneteau 40 is for you.
Welcome Aboard!
Andrew Seligman was introduced to the sea before he could walk and has always been passionate about the boating lifestyle. A transplant from NYC, Andrew currently resides in Philadelphia, Pennsylvania.  He races J-27s during the week at his sailing club and charters various boats on the Chesapeake Bay, Caribbean, and the Mediterranean Sea.  He has been boating since he was eight years old and sailing for 17 years.
Andrew has a USCG Masters License of not more than 100 Gross Tons with Auxiliary sailing and commercial assistance towing endorsement.  Andrew loves to introduce sailing to beginners as well as help others increase their skill level while having fun in a relaxed atmosphere.  Andrew is certified to teach Basic Keel Boat, Basic Coastal Cruising, Bareboat Chartering, Cruising Catamaran, and Coastal Navigation.
When not sailing or working Andrew spends his free time following his wife Linda, an Archeologist who specializes and studies in the Philistines and other Sea Peoples, around the Eastern Mediterranean.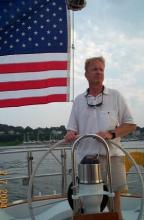 Captain Christoph A. Winter has his roots in East-Friesland near the frigid North Sea Coast of Germany and holds a doctorate in Experimental Nuclear Physics. Over the last 25+ years he has actively cruised and raced almost everything from 8 foot dinghies to 50 foot catamarans. His background in the sciences has allowed a very thorough and methodical approach to think about and teach the concepts of sailing and navigation. Working as a USCG-Licensed Captain and Certified Sailing Instructor, Chris received the ASA (American Sailing Association) national Outstanding Instructor of the Year award three times (2002, 2003 and 2007) while taking countless students on day and night voyages up and down the Northeast Coast of the US, through the Caribbean and Central America. Chris has authored and reviewed numerous publications on marine topics and regularly presents at boating symposia. Chris is a former Executive Board Member of the Twin Lights Historical Society and has now joined the Advisory Council.