The Sailing School is located in Riverside, NJ at G. Winter's Sailing Center, 8 Reserve Ave, Delran, NJ 08075.  We are an American Sailing School Affiliate and offer lessons in Basic Keel Boat Sailing, Basic Coastal Cruising, Bare Boat Cruising, Advanced Coastal Cruising and Coastal Navigation. We also offer Private Lessons; on your boat or ours.
For more information, please contact us:
Phone: 866-724-5101
Email: thesailingschool4you@gmail.com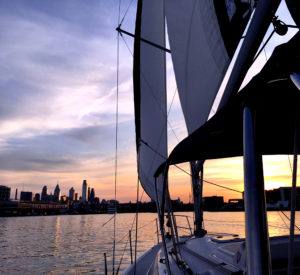 Captain Gary Thomas (a USCG licensed Captain) has been involved in sailing for over 50 years and teaching new sailors for the last 35.  Starting out at the Red Dragon Canoe Club on the Delaware River, he introduced new sailors to the sport of dinghy sailing.  That led to involvement with the Eastern Shore Small Craft Institute on the Chesapeake Bays Eastern Shore where for twenty years Gary went from teaching American Red Cross Basic Sailing to Instructor Trainer, to coordinating the entire program.  In 1998 he went to work with the Philadelphia Sailing School as a Basic Keel Boat Instructor teaching American Sailing Association certification programs. In 2012 he opened The Sailing School, located at G. Winter's Sailing Center in Delran, NJ.  Starting in 2019, we are pleased to announce locations in Delran, NJ, Penn's Landing Marina, Philadelphia, PA, and Osprey Point Marina in Rock Hall, MD on the beautiful Chesapeake Bay.
Welcome Aboard!